For the past couple of weeks I have had the pleasure of living vicariously through our travelers while sifting through hundreds of photos taken in every nook and cranny of South America. What I love most about this process is seeing the world through another's perspective, learning travelers' stories through each image and in a little way, sharing in their joy. Throughout the selection process Krista and I commented several times just how difficult it was to pick only three top photos for each category, but, albeit challenging, we managed to pick this year's Knowmad Adventures Annual Travel Photography Contest winners!
Below, we share incredible shots taken as far north as Ecuador, all the way down to the southernmost continent in the world, and everywhere in-between. See our top three picks for Adventure, Cityscape, Culture, Fauna, Flora, Landscape/Scenery and Portrait below and scroll to the bottom to find out who won the Knowmad Adventures Grand Prize – a 3 day / 2 night stay at the Reserva Amazonica Jungle Lodge (valued at $545). Thank you to all of our Knowmad travel photographers for a fantastic year!
Adventure
First Place Joy! in Patagonia by Kathy Ritter
I can't stop smiling at this photo of Kathy, Sharon and Ginny ice-hiking in Chilean Patagonia!
Second Place Rafting the Futaleufú River by Michel Gelinas
The "Fu" is one of the world's premier whitewater rivers and Michel did a wonderful job capturing the excitement of riding its rapids.
Third Place A Mountain Ride by Bobbi Wehrs
I love the varied topography captured in this shot sent in by Bobbi, which was taken during her custom Chile and Argentina trip.
Cityscape
First Place Roof with a View by Katherine Henly 
We've never seen this perspective of traditional Peruvian roof ornaments, believed to bring luck to the household.
Second Place Colorful in Argentina by Jon Oliva and Jocelyn Kahn
Set in Buenos Aires' La Boca neighborhood, the framing of this picture is perfect.
Third Place A Quiet Street in Chile by Lauren Brockman Andre
This shot has beautiful composition, and the eye can't help but be drawn to the vehicle.
Culture
First Place Dance by Deb Wood
A superb example of Andean traditions, and the color and movement make this an exceptional photograph.
Second Place Asado by Chuck Barish 
When experiencing Patagonia, a traditional asado (grill) with the gauchos is a must. You can almost smell the meat cooking.
Third Place Preparing the Feast by Mary Fransen 
These two men are preparing a Pachamanca, a traditional Andean celebratory meal.
Fauna
First Place Antarctica by Brady Shannon 
The nonchalance of the penguins combined with the action of the seal gives this photo so much character.
Second Place Guanaco Solo by Seng Ung 
Up close and personal with a guanaco (cousin to the llama and alpaca) in Torres del Paine.
Third Place Flamenco Atacameño by Mandy Lee Berman 
Bird photography is difficult, and this shot of a flamingo in the Atacama Desert in Chile is just beautiful.
Honorable Mention Slow Down by Meghan Elliot 
This is one photogenic Galapagos giant tortoise! This photo was taken on Meghan's custom Galapagos Islands adventure where the group of three enjoyed time on a small-ship cruise as well as time at the land-based Galapagos Safari Camp.
Honorable Mention Tarantula the Size of a Human Hand by Joy Leibman 
"I just got a kick out of the size of some of the plants & insects in the rainforest," says Joy of the flora and fauna in Ecuador. In this photo, she had her guide place a hand near the tarantula to show just how big it really was!
Flora
First Place Springtime in Patagonia by Sue Blough
This picture perfectly demonstrates the beauty of Patagonia in spring, and the yellow of the flowers is so vibrant!
Second Place Vines by Pat Stephenson 
Pat's shot makes me want to join her in the Casablanca Valley for some wine and relaxation.
Third Place Contrast by Deb Wood
The colors in this shot are gorgeous, and we love the contrast between the flora and the building.
Landscape/Scenery
First Place After the Rain by Courtney Lenort 
We were in awe at this perfect rainbow shot in Peru's Sacred Valley – there is even the hint of a double rainbow!
Second Place Towers by Kyle Berghorn
Torres del Paine is such a photogenic place, but this shot is exceptional in its composition.
Third Place Atacama Panorama by Greg Stein 
Taken at sunset in the Atacama, the viewer can appreciate the quiet beauty of the desert and mountains.
Portrait
First Place Photographers by Mike & Linda Levey
Armed with cameras and binoculars, this family was ready for the action in the cloud forest at Ecuador's Mashpi Lodge.
Second Place The Trekker by Jon Oliva and Jocelyn Kahn 
The perspective on this shot is beautiful, and we can totally appreciate the view in Torres del Paine.
Third Place The Climb by Mary Fransen 
This lovely portrait, taken on a Women's Group custom trip to Peru, demonstrates the beauty of perseverance.
Grand Prize Winner
Grand Prize Winner Journey by Mandy Lee Berman 
This photo "is our children following our wonderful guide, Fabiola. She seemed to have as much joy jumping down the sand dunes as our children!" says Mandy of this incredible shot.
I'm in awe. At first glance I almost thought it was taken in sepia tones, but these are the true shades of the Atacama. And I'm still trying to figure out where Mandy was standing to get such an amazing picture.
Congratulations, Mandy and the Berman family! Thank you for your submission. You are the winner of a 3 day / 2 night stay at the Reserva Amazonica Jungle Lodge (valued at $545) in Peru!
Thank you to everyone for sending in photos for this year's Knowmad Adventures Annual Travel Photography Contest! Krista and I had a lot of fun putting this feature together and seeing the world through your eyes.
Nos Vemos, Lisa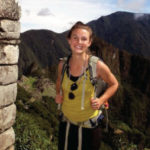 Lisa is the Media Manager at Knowmad Adventures, a company dedicated to creating unique, private and custom trips in South America. She studied abroad in Buenos Aires, Argentina in 2012 and is continually planning her next adventure. Read Lisa's biography and more about the Knowmad team.