The memories you make on a trip will last a lifetime and travel is a great way to get people together that don't otherwise see each other often. Sharing new experiences with your family is one of the best ways to spend time together. Take a look at our top five best family vacations in South America below. We share South America trip ideas for all types of budgets, travel styles and interests.
Click on the links at the end of each itinerary description to see a full, detailed look at each trip idea – including budget information and the best times to go. And don't forget, we create private and custom travel experiences to South America – below are just a few trip ideas to get your dreaming process started. Don't hesitate to give us a call when you're ready to talk specifics!
Top 5 Best Family Vacations in South America: Argentina, Chile, Ecuador & Peru
ARGENTINA + CHILE ADVENTUREThis extensive Argentina and Chile combination itinerary is ideal for those seeking a comprehensive, dynamic, and flexible Patagonia trip that also features the best of greater Argentina and Chile. A striking juxtaposition of landscapes and settings from the urbane to the end of the world, this trip wows at every turn. Argentina + Chile Adventure trip details…
ECUADOR ACTIVE EXPLORER An active, in-depth Ecuador trip highlighting diverse, striking landscapes with exciting adventure excursions like mountain biking and ice hiking, juxtaposed by rejuvenating evenings in cozy haciendas, countryside inns, and a luxury jungle lodge. Cloud forest, volcanoes, glaciers and rainforest visits makes this one amazing journey and gets you in close contact with Ecuador's wide-range of cultures and people. Combine this trip with an exploration of the Galapagos Islands and you're set to embark on the travel experience of a lifetime! Ecuador Active Explorer trip details…
Galapagos Land Based Adventure For those who want to travel the Galapagos but prefer less time aboard a ship, want a more flexible and private itinerary or a wide variety of activities, this is the trip for you. With a flexible itinerary and a variety of activities, this Galapagos tour is perfect for families and couples – adventure by day and relaxation in intimate settings by night. Galapagos Land Based Adventure trip details…
PERU ACTIVE EXPLORER An ideal trip for adventurous families looking for an active trip that explores the best of Peru and ventures to little-known lands and cultures. Hike part of the Inca Trail, mountain bike through the Andes mountains, spend a day talking over a home-made lunch with Amaru community members, marvel at Machu Picchu, horseback ride, whitewater raft and more. Peru Active Explorer trip details…
Amazon to Andes Odyssey An ideal trip for active families looking to combine Peru's highlights with a visit to the Amazon, this trip takes you beyond the beaten path and helps you see two incredibly different regions in a short time. Amazon to Andes Odyssey trip details…
Nos Vemos, Lisa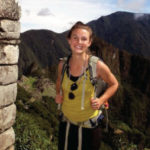 Lisa is the Media Manager at Knowmad Adventures, a company dedicated to creating unique, private and custom trips in South America. She studied abroad in Buenos Aires, Argentina in 2012 and is continually planning her next adventure. Read Lisa's biography and more about the Knowmad team.