On winter days like today when the temperature outside is well below zero, I find myself tucked inside, sipping on a cup of coffee, and, of course, wrapped-up snug in a big, cozy scarf. A scarf isn't just for warding off the blustery drafts at home, but also serves as the ideal travel accessory for adding variation to your outfits.
One of our favorite materials at Knowmad is alpaca fiber, a product similar to wool. It's extremely soft, very warm and spun from the fleecy wool of alpacas – domesticated camelids native to the high altitude regions of Peru, Chile, Ecuador and Bolivia. Alpacas have been domesticated for thousands of years, their images found in drawings by the Moche people of Peru around 500 AD. Their closest living relative is one you may recognize – the vicuña, an animal commonly spotted when traveling in Peru.
Shupaca, a company dedicated to ethically sourced Fair Trade alpaca products, makes an extremely soft and versatile scarf for sale in the United States. Their story is strikingly similar to Knowmad's; husband and wife team Andrew and Lori Schuster were inspired to start Shupaca while traveling off the beaten path in South America. They explain that, "[traveling in] Ecuador brought about an unexpected immersion to the vibrant socio-cultural heritage of South America, and the discovery of an extraordinary fabric called alpaca." Today they work directly with artisans to produce one-of-a-kind apparel and home alpaca products.
Scarves are the perfect lightweight packing option. Knowmad Co-Founder Tara Harvey swears by keeping a scarf in her carry-on, as it can serve as a pillow or blanket on long flights. I like to keep one on hand when I'm out exploring for the day, because it can be used in place of a sweater at night, but isn't as bulky to carry around. Below you will find three ways to tie a scarf to change up the look and feel of your outfits and ultimately maximize your luggage space.
3 Ways to tie a scarf
Find the scarf shown in this post on the Shupaca – Alpaca, Apparel & Home website.

Place the scarf around your neck, letting it hang long on either side. Pull one end of the scarf down, making that side longer. Take the long side and wrap it fully around your neck letting it ultimately hang on the same side as before. Adjust the two ends as you see fit.
Use it is a shawl around your shoulders at night or simply let your scarf hang long.
Place the scarf evenly around your neck. Grab both ends of the scarf and tie it in a simple knot, adjusting the ends as you see fit.
What is your favorite way to wear a scarf? Do you have a versatile travel item that you can't live without? If you are looking for other quick packing tips, detailed pack-lists, or other South America travel information take a look at the Frequently Asked Questions (FAQs) section of our website.
Nos Vemos, Lisa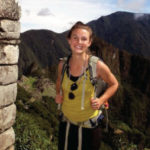 Lisa is the Media Manager at Knowmad Adventures, a company dedicated to creating unique, private and custom trips in South America. She studied abroad in Buenos Aires, Argentina in 2012 and is continually planning her next adventure. Read Lisa's biography and more about the Knowmad team.