It doesn't take much to recognize that Argentina is famous for their steak. We've heard the locals boast about it, the magazines talk about, and the travelers rave about it. One of the reasons their steak is so uniquely delicious is because often times they pair it with a very fresh and robust chimichurri sauce. Below I share the best Argentine chimichurri recipe I've ever had (taste-tested and approved)!
The Best Chimichurri Recipe – Argentine Steak Sauce
Parsley: 1 cup chopped & lightly packed (fresh)
Garlic: 3 to 5 cloves, minced
Salt: 1 teaspoon
Turmeric: pinch of turmeric (optional)
Pepper: 1/2 teaspoon freshly ground
Chili pepper flakes: 1/2 teaspoon
Oregano: 2 tablespoons chopped & lightly packed (fresh)
Shallot: 2 tablespoons minced
Olive oil: 3/4 cup
Red wine vinegar: 3 tablespoons
Lemon juice: 3 tablespoons (fresh)
Place all ingredients in a food processor or blender and pulse until finely chopped, but not fully pureed. Served best over steak.
Argentines & Their Asado
Argentina has been famous for their asado (barbecue) for hundreds of years. Cows were first brought to Argentina in 1536 by the Spanish and because of the Pampas' ideal environment, the cattle population multiplied rapidly. In the late 19th century Argentina's export industry started to thrive partially due to the seasonality of beef production being opposite to that of North America and Europe.
Culturally, beef production, asado and gauchos (South American cowboys) have played a major role in the history of Argentina. As a result of the booming cattle industry hundreds of years ago, landowners became very wealthy and in turn built large estancias or ranches, contributed to politics, philanthropy and society helping the growth of the country as a whole.
Today Argentina is the 5th largest beef producer in the world and Argentines continue to incorporate asado traditions in their daily life, whether that be at a high-end restaurant in Buenos Aires or at a typical estancia in the Pampas. 
Regardless of its origin, any cut of beef is better enjoyed slathered in a savory chimichurri sauce. Please share your experience with the recipe in the comments section below.
Click the link to see a rendition this post, "The Best Chimichurri Sauce", on the natural health and primal living blog Gracefully Primal founded by Grace Heerman.
Nos Vemos, Lisa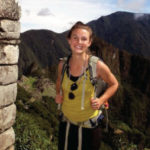 Lisa is the Media Manager at Knowmad Adventures, a company dedicated to creating unique, private and custom trips in South America. She studied abroad in Buenos Aires, Argentina in 2012 and is continually planning her next adventure. Read Lisa's biography and more about the Knowmad team.