Snorkel in the Galapagos Islands, marvel at the stars on the Inca Trail, and meet penguins in Antarctica in this year's Knowmad Adventures Annual Photo Contest.
As always, it was a challenging job sorting through hundreds of photos and attempting to pick favorites out of so many spectacular choices. Our traveler's trips this past year took us as far north as Costa Rica and some 6,500 miles south to breathtaking Antarctica.
Keep reading to find out the official 2017 Knowmad Adventures Annual South America Photo Contest results! See our top three picks for Adventure, Cityscape, Culture, Fauna, Flora, Landscape/Scenery, Portrait, and — an added bonus category — Culinary! Scroll to the bottom to find out who won the Knowmad Adventures Grand Prize — a 3 day / 2 night stay at the Reserva Amazonica Jungle Lodge (valued at $545). 
We are beyond grateful to all of our wonderful 2017 Knowmad travelers. Thank you for a phenomenal year filled with new discoveries, reflection, and exciting adventure!
Adventure
First Place Starry Night on the Inca Trail by Nathan Arch.
Second Place Snowboarding in the Andes by Cary Lobban.
Third Place Underwater by Patrick McFeely, taken during a fantastic Machu Picchu and Galapagos Islands combination trip.
Cityscape
First Place Valparaíso by Chris Stern.
Second Place Exploring Chile by Sowmya Raman.
Third Place Cusco by Judi Norman.
Culture
First Place Learning from the Amaru by Nathan Arch.
Second Place Market in Peru by Hanna Estrem.
Third Place A Peruvian Scene by Dave Motts.
Fauna
First Place Fly Fishing by Genie Zarling, caught during a trip to Argentina combining experiences in Buenos Aires, Bariloche, and Mendoza.
Second Place Little Penguin by Kathy Gee, spotted in Antarctica.
Third Place Atacama Flamingo by Sherry Span.
Flora
First Place Flora in Costa Rica by Wanda Johnson.
Second Place Pop of Color by Dave Mott, taken during their Peru adventure trip.
Third Place Easter Island Flora by Patricia Moody.
Landscape Scenery
First Place Sacred Valley by Andrew Norman, taken on a family trip to Peru.
Second Place Hiking in Patagonia by Lindsey Berres, captured on her honeymoon trip to Argentina.
Third Place Atacama Desert by Luke Reissman.
Portrait
First Place Big Views by Jen Elliot.
Second Place Glacial Lagoon by Jameson Keating, snapped while traveling in Argentine Patagonia.
Third Place New Friends by Patricia Moody, taken while exploring Easter Island.
Honorable Mention Almost There by Nathan Arch, captured while on the Inca Trail :).
Culinary
First Place Atacama by Sherry Span.
Second Place Cooking at Finca Adalgisa by Mary Shanesey in Mendoza, Argentina.
Third Place Perspective by Hanna Estrem.
Grand Prize Winner
Grand Prize Winner Antarctic Wilderness by Kathy Gee.
On an over 15-day trip with friends to Argentina and Antarctica that combined contrasting regions like the Atacama Desert, wine country, and the famed white continent, Kathy Gee captured this rapturing shot of the Antarctic wilderness. I had a hard time choosing which photo of Kathy's should be recognized as the "Grand Prize Winner" because she sent in so many incredible photos of the remote and rugged Antarctica.
Congrats on your Grand Prize Win, Kathy!
And thank you to everyone for sending in photos for this year's Knowmad Adventures Annual Travel Photography Contest! If you'd like to see more South American adventure photos, visit our Knowmad Adventures Facebook page where I posted an album with all of my favorite top contenders.
Nos Vemos, Lisa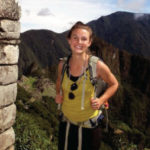 Lisa is the Media Manager at Knowmad Adventures, a company dedicated to creating unique, private and custom trips in South America. She studied abroad in Buenos Aires, Argentina in 2012 and is continually planning her next adventure. Read Lisa's biography and more about the Knowmad team.