Instead of exploring the Galapagos Islands exclusively via land or sea, Knowmad travelers Rion and Shelly's trip is an example of incorporating both a land-based accommodation and a catamaran cruise. The two enjoyed snorkeling, spotting wildlife, relaxing on their Galapagos Safari Camp porch, and experiencing life at sea onboard the Anahi. Learn about this unique Galapagos Islands trip here.
"Overall I could tell you took our requests of what we most wanted to see, do, and experience very seriously in planning the trip for us, which we both really appreciated. We checked everything off of our "to-do list" and then some." – Rion Latimore
Thanks for the kind words!
Knowmad specializes in creating unique, custom trips to the Galapagos Islands and mainland Ecuador, as well as greater South America. If this Galapagos Islands travel experience isn't exactly what you're looking for, email us at [email protected] or give us a call at 612-315-2894 and we can help you craft the adventure of your dreams.
Galapagos Islands Travel: Land + Sea
Day 1 USA – Quito
You will fly from the USA to Quito arriving most likely in the evening. Upon your evening arrival to Quito you will be met at the airport and transferred to your hotel in the heart of the old historic center of Quito.
Day 2 Half-day guided Quito
Enjoy a half-day guided tour of Quito as you walk down quaint cobblestone streets lined with brightly colored colonial houses and balconies dressed in flowers. Visit the Plaza de la Independencia and the impressive, La Catedral de Quito, one of the oldest cathedrals in South America. Then see the Presidential Palace along with other historically and architecturally rich buildings lining and surrounding the square. Visit the art museum in Plaza de San Francisco showing a mix of both indigenous and European styles. Enjoy the afternoon to explore independently.
Day 3 Quito – Galapagos
You will be met in your hotel lobby and transferred to the airport to check in for your 7:05 a.m. flight to the Baltra Airport in Galapagos. The flight from Quito to the Galapagos is approximately 2 ½ hours on a Boeing 727. Upon arrival at Baltra travelers pass through an airport inspection point to insure that no foreign plants or animals are introduced to the islands. Your park entrance fee of $100 and $20 for the INGALA card, which is an identity card that you need, will have been pre-paid. A representative from Galapagos Safari Camp will meet you and take you to your accommodations. Today you will visit the highlands of Santa Cruz and the tortoise reserve where you will see your first giant Galapagos Tortoise. Arrive to your luxury safari style accommodations for a relaxing evening.
Day 4 Santa Cruz
Today you will visit the eastern side of Santa Cruz, the Cerro Mesa and Garrapatero for trekking, biking and kayaking options. At 490 meters above sea level, Cerro Mesa offers spectacular views and boasts the larges crater on Santa Cruz. This will all be on a private basis with guide so you can decide how active you would like to be and do more or less activities or simply soak in the sun and relax on the white sand beach. Enjoy the sunshine and wildlife as you have a delicious picnic on the beach. After lunch you can visit Garrapatero Beach, where the contrast of mangroves, black lava, white sand and turquoise water, along with its birdlife and flamingo lagoon, is magnificent.
Day 5 North Seymour or similar Boat Excursion
Today you will visit North Seymour (or a similar island not visited in cruise itinerary) to snorkel with a wide array of sea life and begin to discover the variety of wildlife found on these islands. The Galapagos Marine Reserve is the second largest marine reserve in the world, and snorkeling off the boat is a highlight.
Day 6 Baltra – Bachas
Today you will be taken to your cruise to begin the cruise portion of your Galapagos adventure. Motorized rafts, called 'Pangas' will transport you to the M/C ANAHI and our crew will welcome you onboard. After departure and lunch, the first island visit is made.
PM: Bachas Beach, Santa Cruz Island
These two small beaches are found to the West of Turtle Cove. Their sand is made of decomposed coral, which makes it white and soft, making it a favorite nesting site for sea turtles. Behind one of the beaches there is a small brackish water lagoon, where occasionally it is possible to observe flamingos and other coastal birds, such as black-necked stilts and whimbrels. The other beach is longer, but it has two old barges that were abandoned during the Second World War, when the USA used Baltra Island as a strategical point to protect the Panama Channel.
B, L, D – Anahi Catamaran
Day 7 Genovesa Island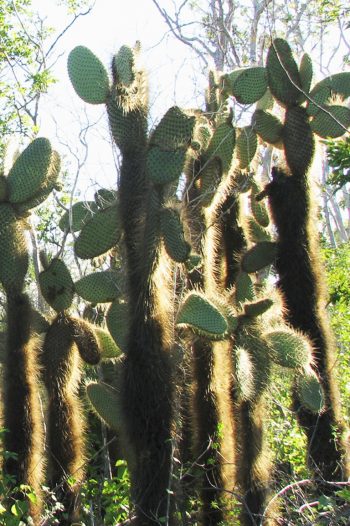 AM: Darwin Bay
This bay has its origin when the crater of this island collapsed below sea level. The wet landing is on a beautiful white coral sandy beach. This is a favorite island for birdwatchers: red footed-booby, masked boobies, wandering tattlers, lava gulls, whimbrels, yellow-crowned, and black-crowned lava herons, and yellow warblers can be seen in the area. Continuing on the trail, visitors climb gradually to the edge of the cliff seeing Red-Foots nesting in the Mangrove trees below. Bird watching includes sightings of sharp-beaked finches, large cactus and ground finches, Galapagos doves, and swallow-tailed gulls. Reaching the end the trail at the cliff's edge offers an incredible view of the island and the many birds living there.
PM: El Barranco
The visitor site of El Barranco is located in the southern part of Darwin Bay on Genovesa Island. The trail is on volcanic rock that has a length of 1.5 km and the tour can be done in about 2 hours. The youngest area of the island, from a geological point of view, lies in this area. The cliffs located in the south are composed of very fragile lava. The natural erosion that has occurred in these lava flows has become the ideal place for nesting Storm Petrels. You can see two species of petrels that nest in cavities and holes in the lava. One of its main predators is the short-eared owl. The red-footed booby nests only in the outer islands of the archipelago, Punta Pitt, Gardner (Floreana), Wolf, Darwin and Genovesa. Also present on this island is the masked booby. During the panga rides along the cliffs fur sea lions can be seen and several species of seabirds.
B, L, D – Anahi Catamaran
Day 8 Santa Cruz
AM: Plazas
Plazas is located at the east of Santa Cruz Island, and forms part of two islands known as Islas Plazas. Despite its small size, some of the most interesting and outstanding species of the Galapagos are found here. The Plazas land iguanas are smaller than its relatives found at other islands. Throughout the island are several hybrid iguanas, a result of crossing a male marine iguana and a female land iguana, they are unique, recognizable at first glance by their black/gray color, with a land iguana's crest, but face and tail of the marine iguana. The big population of iguanas is due to the presence of tunas, their favorite food. Swallow tailed gulls nesting in the rugged cliffs are seen along with other sea birds as: Audubon shearwaters, red-billed tropicbirds, frigate birds, and brown pelicans.
PM: Santa Fe
Located in the southeastern part of the Galapagos, this island was formed from an uplift instead of a volcanic origin, making it mostly flat. There are some theories which assure this could be the oldest island in the Archipelago. Santa Fe is the home of a number of endemic species like the Galapagos hawk, Galapagos snake, Galapagos mockingbird, rice rats, and one of the two species of land Iguanas of the islands. After disembarking in the beautiful and clear waters you will be in contact with one of the many sea lion colonies. Along the trail many salt bushes can be seen as well giant Prickly pear cactus, gigantism is a characteristic of oceanic islands. There are great possibilities of snorkeling with playful sea lions and tropical fishes.
B, L, D – Anahi Catamaran
Day 9 San Cristobal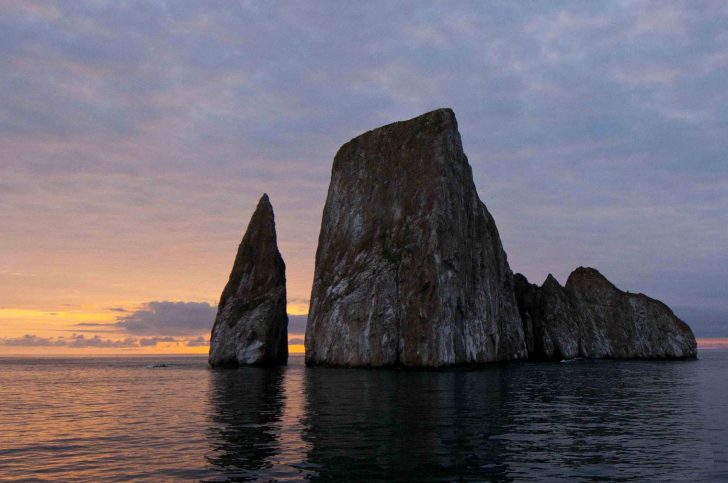 AM : Pitt Point
This place is on the north side of San Cristobal. Here there are endemic species such as lava lizards and red-footed boobies. The view is impressive when you walk up to the high part of the island.
You may be lucky to see the red-footed booby – the least seen of the bunch. It's also the home of the Chatham mockingbird, only found here on San Cristobal Island.
PM: Kicker Rock
Also known as the Sleeping Lion because of its resemblance, it is located off the coast of San Cristobal. The remains of a lava cone eroded by the sea, the two vertical rocks rising 500 feet from the ocean form a small channel that is navigable by small boats. This Galapagos Islands natural monument has become a favorite sight for cruises due to the many tropical birds, frigates, and boobies that fill the surrounding air. Beneath the sea the nearly crystal waters offer a brilliant show of colorful tropical fish and invertebrates.
Lobos Island
Isla Lobos is about an hour by boat from Port Baquerizo Moreno. The trail is 850 meters long and the estimated travel time is one hour. There is a small population of blue-footed boobies and common frigate birds nesting on this site. You can observe the two species of sea lions present in the archipelago. During the tour you go through a dry vegetation zone, substrate of volcanic rocks and a sandy area. During the panga tour brown pelicans and several species of shorebirds can be observed; although, snorkeling, it's common to see juvenile sea lions, manta rays and sea turtles.
(B, L, D – Anahi Catamaran)
Day 10 San Cristobal
AM : Interpretation Center.
An Interpretation Center's, lush gardens and sweeping ocean views are a strong contrast to the 1960's style buildings at the Charles Darwin Center. Visitors to the Interpretation Center can learn about both the geological and human history of the islands, conservation issues, and natural history. The older Museum of Natural History attempts to preserve the natural history of the islands.
Tijeretas Hill
It is called Tijeretas because this is the name commonly known for the frigates. It is located within walking distance of Port Baquerizo Moreno. The loop is 3.5 miles and estimated travel time is 2 hours. There are many vistas where you can appreciate the beautiful scenery and there is also an inlet where you can go snorkeling. It is one of the only places where you can watch the two species of frigate birds nesting in the same colony. After visiting this amazing place you will be taken to the airport for your return flight to the mainland. Upon your arrival in Quito you will be responsible for checking in for your overnight flight home.
Day 11 Arrive Home
Note: This post was edited and updated on June 13, 2017. 
Hasta Pronto, Knowmad Adventurers
Knowmad Adventures works closely with independent-minded travelers creating innovative trips to South America. Our specialists in Patagonia, Chile, Machu Picchu, Peru, Argentina, the Galapagos Islands, Ecuador and Antarctica are eager to collaborate and create a trip as unique and authentic as you are, and our experienced South American operations team guarantees you get an insider's perspective, superior values, and a flawlessly operated trip.