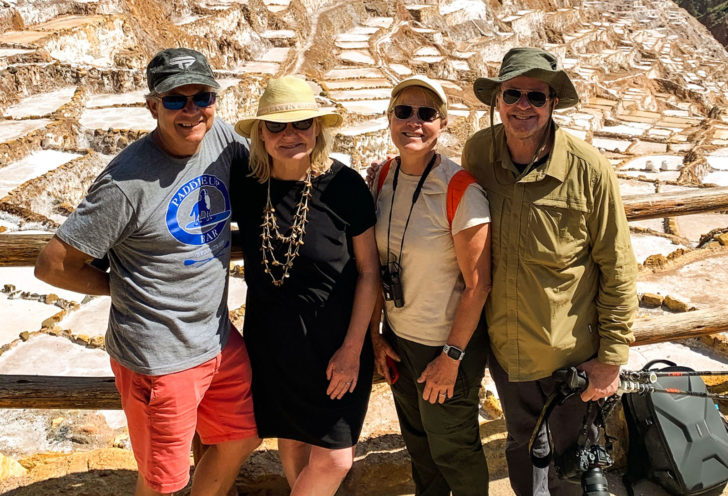 Having known each other for decades, this group of four already knew any adventure they planned together would be a ball. They came to Knowmad to handle the details and craft experiences that would invite a deeper connection with the landscapes, wildlife, and locals. Little could they have imagined sharing a glass of vino with Margarita, the charming owner of 17th-century Hacienda Zuleta nestled in the Ecuadorian Andes, or exchanging stories with their guide Miguel at Machu Picchu as they walked through mazes of dry-stone walls built over 500 years ago.
Join this lively group of friends as they travel throughout western South America and see why they said, "Our trip was absolutely amazing! An unforgettable experience full of adventure and unexpected beauty"
It has always been our goal to take the stress out of travel planning, and that rings true now more than ever. If you're interested in crafting a custom trip to South America, reach out to a Knowmad Trip Specialist at 612-315-2894 or email [email protected] to start planning today!
A few weeks after their trip Karla and I sat down to talk about all the adventure, relaxation and fun they packed into their 3-week trip. I asked why they chose a trip combining travel to the Galapagos, mainland Ecuador, and Peru and Karla said, "It was one of Tom's dream vacations." Kari and Tom got the ball rolling and asked Karla and Jerry if they wanted to join. Without hesitation they were on board!
Fast forward through Covid restrictions and two postponements, and this group of four friends found themselves bobbing along in the middle of the Pacific Ocean watching penguins splash and twirl through sparkling waters off the coast of the Galapagos Islands. Karla said, "the Galapagos is something else!" Unlike any place she had ever been before. "The boat was really nice. Food was great. I would recommend it to anyone!" and, "The mountains [in Peru]… I have never seen mountains like that before," magical and jungley, "when you climb up there and look down on [Machu Picchu] it is spiritual."
I wondered if there was anything she really appreciated about the planning and she exclaimed, "All of it! We kept asking ourselves, 'how did they do this?' How did they get everybody in the right place at the right time? I mean wow, it was amazing! We were all very impressed by the planning"
Keep reading to see their custom itinerary and many memories and photos sprinkled throughout.
WILDLIFE & WONDERS OF SOUTH AMERICA: GALAPAGOS TO MACHU PICCHU
DAY 1 USA – Quito
You will fly from the USA to Quito, arriving in the evening. Upon your arrival in Quito you will be met at the airport by your Knowmad Adventures representative and transferred to your accommodations in the heart of the old historic center of Quito.
DAY 2 Quito
Enjoy a full-day guided exploration of Quito. First, head north to the equator and the fascinating Intiñan museum, dedicated to the promotion and study of the nations that inhabited the equatorial area. Enjoy the artifacts, totems, sundials, and portions of an original village at this museum, as well as the marvel of being at the center of the world on the equator. After your visit, you'll head back into Quito enjoying a spectacular view of this incredible city at the top of Panecillo Hill on your way. Return to Old Town Quito for lunch and to enjoy discovering the city as you walk down quaint cobblestone streets lined with brightly colored colonial houses and balconies dressed in flowers. Visit the Plaza de la Independencia and the impressive La Catedral de Quito, one of the oldest cathedrals in South America. Also see the Presidential Palace along with other historically and architecturally rich buildings surrounding the square. Your guide will take you to churches built around the 16th and 17th centuries including the monastery of San Francisco, which was started just five days after the founding of Quito in 1534. End the day with a visit to a small chocolate shop for a tasting of different varieties of world-renowned Ecuadorian chocolate.
DAY 3 Quito – Galapagos

This morning you will fly west from Quito to the Galapagos Islands. After you've settled in, your first stop will be Pinnacle Rock, a volcanic cone formed by magma expelled by an underwater volcano. The sea cooled the hot lava and, as it exploded from contact, the pieces formed together this huge rock of many, many layers of basalt. The huge rock also has a beach where a small population of green sea turtles will nest during breeding season. Galapagos penguins gather here as well, and swimming in this area can offer beautiful sights of colorful schools of fish and curious sea lions.
"The Galapagos is something else, talk about being out in the middle of nowhere!" We both laughed. Karla kept mentioning just how amazing the wildlife was in the Galapagos Islands.  So many birds, and "the animals really will let you walk right up to them."
DAY 4 Genovesa Island
Once a shield volcano, Darwin Bay now offers visitors a view of where the caldera collapsed after hundreds of years of erosion. It is known for the wide variety of birds that can be seen: over 20,000 red-footed boobies are estimated to call this island home within the trees and bushes of Genovesa Island. Try to spot them, as well as blue-footed and Nazca boobies, swallow-tailed gulls, finches, rays, tropical fish, marine iguanas, sea lions, and more while at this site.
In the afternoon you will visit El Barranco, or as it's known in English, Prince Phillip's Steps. These steps lead to a rocky path up a cliff that rewards travelers with a remarkable view. It is also home to a Palo Santo forest that hosts many different species of local wildlife.
DAY 5 Santiago Island
Located on the second Island Charles Darwin discovered, Buccaneer Cove is an excellent opportunity for snorkeling, and was once a refuge for passing sailors and pirates. The underwater formations provide an amazing home for the many different tropical species of fish that can be found here.
Egas Port, also known as James Bay, is home to quick-footed Galapagos lava lizards. There are grottos and tide pools housing all kinds of different marine species at this visitor site, making it one of the best snorkeling sites in the Galapagos.
DAY 6 North Seymour & Santa Cruz Islands
The island was named after English nobleman Lord Hugh Seymour. Formed by uplifted submarine lava, the island is home to a huge colony of about 2,500 land iguanas as well as large populations of sea lions, blue-footed boobies, common noddies, and frigatebirds. Along the coast, it is possible to see land and marine iguanas, and the biggest colony of Magnificent Frigatebirds. Enjoy snorkeling, hiking, and a panga ride while here.
The Highlands of Santa Cruz feature rich wildlife, hills, ferns, volcanoes, lava tubes, and more. Exploring the lava tubes is a surreal and unique experience. Here, you can see all the different agricultural zones that are present in the Galapagos in one place. The variety of birds makes this spot a bird watcher's delight.
DAY 7 Mosquera Islet – Galapagos – Onward


Hacienda Zuleta
In the morning, visit Mosquera Islet, located between the islands of Baltra and North Seymour. It is a reef of rocks and coral (the result of an uprising) and a great, white sand beach. This island also has one of the largest populations of sea lions. You can also observe several species of shorebirds. After this visit, you will disembark and continue your adventure.
Kari & Tom: Santa Cruz
After saying goodbye to your cruise, you will meet your private Knowmad Adventures guide and continue your Galapagos adventure with a visit to a local coffee farm to learn about sustainable coffee farming and enjoy a delicious lunch. You will then continue on to a local wood workshop, to get a sneak peak into the artisan lifestyle here in the Galapagos. Afterwards, you will head to your accommodations, Magic Galapagos, to enjoy the evening at your leisure. The Galapagos Magic Tented Camp will be your home for these few days. The sounds of nature will be your lullaby in the evenings, and you can feast our eyes on the scenic tapestry of mountains and forest surrounding the lodge and fantastic views of the ocean and on a perfect day you can spot Floreana Island in the distance. Giant tortoises will be your companions at the lodge, and starlight will guide you to your rooms after a scrumptious dinner near the crackling fire. After today's activities, your guide will escort you to Scuba Iguana's dive center nearby in order to prepare for your dive excursion tomorrow.
Your journey on board will end at Baltra Island, where you will disembark and be transferred to the airport for your flight back to the mainland. Upon arrival in Quito, you will be met at the airport by your Spanish-speaking driver and taken on the 2-hour scenic drive north to Hacienda Zuleta. After checking in you will meet your host and learn about all the traditional hacienda has to offer and have dinner.
Karla & Jerry: Galapagos – Quito – Zuleta
After disembarkment, you will fly to Quito and take a scenic drive north to Hacienda Zuleta, enjoying a late lunch en route. Spend the rest of the day relaxing and taking advantage of the many on-site activities.
Karla exclaimed that Hacienda Zuleta was one of their favorite places, "so magical. The food. The dining room." The entire place. They hiked and learned about the history of the hacienda over wine and cheese with Margarita almost every night – the owner and daughter of the former president of Ecuador. Karla said, "I just loved her, warm and charming, we exchanged stories" and connected over summer celebrations and family traditions.
DAY 8

Hacienda Zuleta
Kari & Tom: Galapagos Dive
Today you will be met at 7:00 a.m. in your hotel lobby for a full day of privately guided Scuba diving in the Galapagos at Mosquera & Daphne sites. North of Santa Cruz Island, between Seymour & Balra Islands, is an islet that emerges from the sea, featuring a sandy bottom between 15 – 18 meters down. Here, you can try to spot garden eels, pelagic species, hammerhead sharks, black and white tip reef sharks, sea lions, turtles, barracudas, sting rays, eagle rays, Galápagos eel, and other invertebrates. Continue on to the next site, Daphne, where you'll dive along a cliff wall with hidden treasures, a rocky and sandy bottom across and incline that slopes below you like a pyramid wall. Here, be on the lookout for sea lions, Galapagos sharks, black tip reef sharks, turtles, yellow fin tuna, marbled rays, large schools of king angelfish, and perhaps even some blue footed boobies diving as well.
Karla & Jerry: Zuleta
Enjoy the day at your leisure to independently explore the beautiful Hacienda Zuleta and its surrounding area. If you are an early morning person, you might enjoy a short walk around the property prior to breakfast. There is a profuse variety of bird life attracted to the garden, and adjacent to the main courtyard, the milking barn is full of activities at daybreak as some of the more than 300 Holstein dairy cows are milked by the hacienda's staff and if you choose, you can arrange with your host to head out with a local woman to milk a cow. Hacienda Zuleta has a large system of self-guided hiking trails for you to explore the area. Zuleta also invites you to explore the extensive gardens, visit the on-site cheese museum, or learn about their involvement in the community, its traditions, and its development. Other optional activities could include horseback riding, guided hikes and explorations, or mountain biking excursions (to be arranged and paid for direct on site). As the sun sets, enjoy wine and farm-made cheese by the fireplace in the cozy fireplace and enjoy a delicious dinner and relaxing night.
DAY 9
Kari & Tom: Galapagos Dive
Today you will be met at 7:00 a.m. in your hotel lobby for another full day of privately guided Scuba diving in the Galapagos, this time to Floreana island. South of Santa Cruz Island, Floreana is the least populated island of the archipelago, in terms of people. There are three dive site options; Punta Cormorant, Champion and Enderby. Largely comprised of reef, all three offer something a little different including an occasional current that provides a thrilling drift dive opportunity. Look out for the endemic red lipped batfish and unique (and strange) Galapagos Sea Robin that has fins, wings and legs! Also here are white tip reef sharks, turtles, young sea lions playing, Galapagos sharks, sting rays, eagle rays, marbled rays, barracudas, reef fish and invertebrates like octopus in amongst the reef.
Karla & Jerry: Zuleta
Today you'll venture out with a local horse guide (Spanish speaking only) on a short 2-hour horseback ride through Andean countryside. You can choose from a variety of routes with your guide, riding through pastures, past pre-Columbian ruins, small Andean villages and more. Hacienda Zuleta is known for its beautiful Zuleteño horses, a unique mixture between Spanish-Andalusian, Thoroughbred and American Quarter horse. The result of this crossbreeding is a robust, noble and soft Andean horse with a perfect disposition for riding on trails. Afterwards, enjoy the rest of the day at leisure to independently explore the amazing Hacienda Zuleta grounds and hiking trails, or relax at the property.
B, L, D – Hacienda Zuleta
DAY 10
Kari & Tom: Santa Cruz – Guayaquil
Enjoy one final morning at the unique Magic Galapagos. Afterward, you will be transferred to the Baltra airport in accordance with your return flight to mainland Ecuador & Guayaquil. Upon arrival, you will be met at the airport and transferred (Spanish speaking driver only) to your hotel for the evening.
B – Holiday Inn Airport Hotel Guayaquil
Karla & Jerry: Zuleta – Quito – Guayaquil
Enjoy a relaxing morning at Zuleta, taking advantage of the amazing Hacienda grounds and hiking trails, or relaxing at the property. At 11:30 a.m., you will bid the hacienda farewell for the Quito airport, in accordance with your onward flight to Guayaquil. Upon your evening arrival in Guayaquil, you will be met at the airport and transferred to your hotel.
B – Holiday Inn Airport Hotel Guayaquil
DAY 11 Guayaquil – Lima – Cusco – Sacred Valley
At 9:30 a.m., all four travelers together will be met by your driver and taken back to the Guayaquil airport for your onward flight to Lima & then Cusco. After your flight to the former Incan capital of Cusco where Andean cultures come alive (don't be surprised when the language doesn't sound like Spanish – it is most likely the native Andean tongue Quechua), you will be met at the airport by your guide and taken through the mountains with inspired views of the snow-capped Andean peaks, to descend into the Valley of the Incas and check in to your accommodations. Take the evening to unwind, explore, and acclimatize.
After breakfast, you will head by van along the Sacred Valley past the remote Andean communities of Calca, Coya, Lamay and Pisac until you arrive at the Amaru community. This isolated community holds strongly to their ancient customs and practices a largely subsistence lifestyle on the slopes of the Andes. The Amaru will proudly open their village to you where you will learn of their lifestyle and traditions. Among other things you will take part in gathering plants used as natural dyes, learn of their medicinal and culinary properties, and see how the Amaru's world-renowned textiles are woven and brought to life. You will also enjoy lunch at Cuchara de Palo, a local restaurant that celebrates organic and traditional Andean ingredients grown locally. After lunch you will make your way to Pisac – one of Peru's largest and most vibrant markets – where you can bargain with Andean campesinos for handcrafted wares. At the end of your excursion you will be returned to your accommodations.
This was another captivating day, "We watched them dye the yarn with all natural dyes" and varying degrees of salt to make different colors. Karla and I both agreed that it's really amazing what vibrant and rich colors they can create with all natural ingredients.
DAY 13 Moray and Maras
Heading out early you will arrive at the Inca agricultural terraces of Moray, a little-known site thought to be an ancient Incan agricultural laboratory. From here you will continue on by van or hiking (dependent on your preference and weather conditions) to the fascinating site of Maras where you will see ancient saltpans still being harvested in the traditional way. Enjoy a gourmet picnic lunch in the shadows of the Andes on this day as well. In the afternoon you will head back to your accommodations to enjoy a relaxing evening.
"Each day was so unique, over and above," Karla said of the amazing lunch they put together on this day. And she mentioned how incredible it was to be invited into people's homes and really get to see their day to day life, it was surprising to her "how simple their lives were. They met one family on Easter Sunday and the kitchen "was a dirt floor with a firepit in the corner and everyone was sitting on the floor having soup."
DAY 14 Sacred Valley
Today you will begin your day hike to Huchuy Qosqo. You will pack only what you need for the one overnight at camp in a duffle bag provided to you the day prior. In your daypack, pack what you will need access to during the day while hiking, like your camera and layers. The duffle will be carried by horses. We will safely store your main luggage, which you will receive again the following day. Hike alongside herds of llamas and alpacas overlooking the snow-capped mountains of the Sacred Valley, and go through the Apacheta pass at over 14,000 feet. After enjoying both a snack and lunch en route, you will descend to the stone and adobe ruins of Huchuy Qosqo. Enjoy the beauty of these ruins that are built on the mountaintop, with clear blue skies above and streams running on either side. Relax in the shade of the quenua trees (Andean oak) and the pristine beauty around you during an evening at leisure at your campsite.
B, Box L, D – Huchuy Qosco Ruins Campsite
This hike was one of their "favorite parts because all four of us felt like we pushed ourselves. We camped one night, and when you wake up in the morning and you've done 6 hours of hiking the day before and then the next day another 5 hours… I felt fantastic after that trip!" Karla said, "I've already framed photos from [this] part of the trip. I was just so excited to get home and do it right away"
DAY 15 Huchuy Qosqo – Ollantaytambo – Machu Picchu Pueblo
After breakfast at camp today and the sunrise over the Andes mountains, you will begin the hike out from the basecamp site. From your exit point at Lamay, you will continue through the Sacred Valley and stop to enjoy lunch at an authentic colonial-era hacienda where you will appreciate a blend of Spanish traditions and indigenous customs, as well as a private museum collection, before continuing on to Ollantaytambo. There, you will board the afternoon train that chugs along the Urubamba River and parts of the Inca Trail, arriving in Machu Picchu Pueblo to enjoy the evening at your leisure. Note that, due to luggage restrictions on the train, you will pack only what you need for your time in Machu Picchu into a duffle bag provided to you the day prior. We will safely store your main luggage at our Cusco office, which you will reunite with when you arrive to your Cusco hotel.
DAY 16 Machu Picchu

This morning you will visit the Machu Picchu citadel. This incredibly vast archeological site – lost to the world until well into the twentieth century – is perched amongst Andean peaks and lush cloud forest, making it one of the most breathtaking sights in the world. You'll have the opportunity for a complete guided discovery of the site as you begin to unlock the mystery of the Inca, with permits this morning and afternoon. Following lunch at the adjacent Sanctuary Lodge, you will head back into the ruins for the afternoon to continue your exploration of the incredible site at your leisure. Afterward, you'll head back down to your accommodations to spend the evening at your leisure.
B, L, D – Machu Picchu Pueblo Hotel
Machu Picchu was one of the things that surprised her the most about the trip, "The mountains. I have never seen mountains like that before," and she found the history of the area to be fascinating. The fact that it was re-discovered less than 100 years ago is astonishing!
DAY 17 Machu Picchu Pueblo – Ollantaytambo – Cusco
Enjoy one final breakfast at the Machu Picchu Pueblo Hotel. Perhaps do an early morning bird watching excursion at 6:00 a.m. (please let the hotel know if you wish to do this at check-in). You will then head to the train station to be there by 8:30 a.m. and take the train back to Ollantaytambo where you will enjoy a delicious Pachamanca experience, a celebratory meal cooked in the ground under hot stones and traditional in these areas. The chef will explain this tradition as well as the dish, and you will participate in this elaborate and unique ancient preparation technique (experience and meal in group service). After lunch, roam the streets of Ollantaytambo and its ruins, before you continue on to Cusco, one of South America's most dynamic cities.
As with any journey, sometimes there are unexpected bumps in the road. A strike while they were in Machu Picchu Pueblo made things interesting but the group took it in stride and were so grateful for their guide, Miguel, giving him high praise:
"Miguel is an amazing, attentive, and indeed the most wonderful guide that we could imagine! He has kept us abreast of the strike situation and our options every step of the way! We are so grateful for his expertise and experience …and thankful that we are traveling under his wings!" Karla said that, "he really went above and beyond."
DAY 18 Cusco – Lima
Enjoy the morning to relax or continue to explore Cusco. Please note you will be independently responsible for checking out of your hotel this morning.
Later today, at 5:00 p.m. you will be met in your hotel lobby and transferred to the airport in accordance with your onward flight to Lima. Upon arrival in the Lima airport you will be responsible for independently crossing the street and checking into the Wyndham airport hotel for the evening.
B – Wyndham Costa del Sol Airport Hotel
DAY 19 Lima – USA
This morning you will be responsible for crossing the street and checking in for your international flight home.
At the end of our phone call, as we both sat there smiling and saying our goodbyes, Karla took a pause and just said, "it was a trip of a lifetime. Really. Truly"
Would you be interested in taking a similar adventure? Knowmad offers door-to-door trip planning: we help you navigate the different boat options, itineraries, and seasonal differences, coordinating Galapagos + mainland Ecuador and Peru travel for a holistic, seamless, and safe experience, all at a guaranteed best value. Reach out to our Trip Specialists at 612-315-2894 or [email protected] to begin planning your trip today!
Hasta Pronto, Knowmad Adventurers
Knowmad Adventures works closely with independent-minded travelers creating innovative trips to South America. Our specialists in Patagonia, Chile, Machu Picchu, Peru, Argentina, the Galapagos Islands, Ecuador and Antarctica are eager to collaborate and create a trip as unique and authentic as you are, and our experienced South American operations team guarantees you get an insider's perspective, superior values, and a flawlessly-operated trip.