I've been the Media Manager for Knowmad Adventures for over three years and I have been tasked with writing about our accolades and press several times. It has always been challenging, because it is really difficult to accurately describe what an accolade like the Condé Nast Traveler Experience Makers + Top Travel Specialist Award means to our company.
This award means that the vision Tara and Jordan created just seven years ago in a small cabin on a dairy farm in Patagonia has come to fruition, while at the same time it means that we get to dream bigger and continue to evolve.
It means that we have created unforgettable experiences for many travelers, and we have stood by our belief that travel makes us better people, and better people make a better world.
It means that the work the Knowmad Team has tirelessly put in day in and day out to provide our travelers with one-of-a-kind trips to South America has been recognized and celebrated.
It is truly an honor (and to be quite frank, a really big deal) to be awarded the Condé Nast Traveler Experience Makers Award for Argentina and Chile for the second year in a row!
You can learn more about the Top Travel Specialists on the Condé Nast Traveler website and see the full feature in the Condé Nast Traveler December 2016 issue or here on their website, "2016 Top Travel Specialist We Trust."
Nos Vemos, Lisa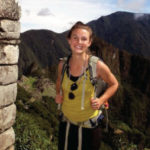 Lisa is the Media Manager at Knowmad Adventures, a company dedicated to creating unique, private and custom trips in South America. She studied abroad in Buenos Aires, Argentina in 2012 and is continually planning her next adventure. Read Lisa's biography and more about the Knowmad team.