Our private tour guide in Peru, Wilfredo "had such a passionate connection to the trails, the Incan sites, and the history that he shared with us. And, it seemed like there was no joy greater for him than to share this with us."
– Mary, Northfield MN | Custom Inca Trail Trip
Wilfredo was born and raised in Cusco.  After graduating from the San Antonio de Abad University with a degree in Tourism Administration he continued to pursue his passion for music and travel. He has been a private tour guide in the Cusco area since the '80s and has probably been on the Inca Trail over 250 times!  When Wilfredo is not guiding travelers in Cusco he is designing and manufacturing traditional Andean musical instruments, which he exports to various countries around the globe. Wilfredo is also an accomplished musician. He plays a variety of instruments including the quena, zampoña, charango and percussion, and performed in concerts in several cities in the United States back in the '90s. He also has wide-ranging knowledge of Peruvian culture, society and politics in addition to insight into Peru's unique flora and fauna.
Getting to Know Wilfredo
What is your favorite part about being a private tour guide in Peru?
The end of each trip, after enjoying the sites, nature and culture together with the travelers, and feeling like I've made new friends and learned from them. Meeting new people, that is the best part of being a guide – there is always something to learn! I have a different experience with each person.
What is your favorite region in Peru and why?
My favorite region in Peru is the place where I was born, Cusco. I especially like its beautiful archeological sites and traditions.
What is one thing you suggest every person traveling to Peru should try?
I always mention doing the Inca Trail to Machu Picchu, which is my favorite hike. Also, try our Peruvian food, especially the guinea pig.
Could you tell us a little bit more about your passion for music?
I have always loved music, since I was very young. I especially like the traditional music of Peru sung in our Incan language, Quechua, and of course the sounds of the flutes called Quena and the Antaras or Zampoñas, commonly called panpipes or wind instruments. I particularly like these instruments because I can craft all of them.
What cities did you travel to when you visited the U.S. for your music and do you plan on returning? Do you still perform in Peru today?
I visited the United States with my band invited by The Old Town School of Folk Music in 1995. We went to Chicago, St.Louis, Bloomington and more. I left the band eight years ago and I have no plans to visit the States for my music again, but I do plan to come for vacations in the future. Being retired from the band does not mean that I do not play, I am still performing music with my two sons and my daughter and at times for travelers.
If you want to meet Wilfredo in person and are interested in traveling to Peru take a look at the Peru Trip Ideas page. Don't hesitate to give us a call at 612-315-2894 or email [email protected], we're always happy to chat travel!
Nos Vemos, Lisa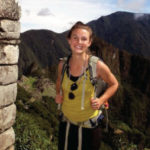 Lisa is the Media Manager at Knowmad Adventures, a company dedicated to creating unique, private and custom trips in South America. She studied abroad in Buenos Aires, Argentina in 2012 and is continually planning her next adventure. Read Lisa's biography and more about the Knowmad team.