Find out the best places to stand-up paddle board and raft in Peru, surf in Chile, cruise in Antarctica and more with this detailed, visual look at the Top 10 Places to Get Your Feet Wet in South America.
Experiencing a classic destination in an entirely new and creative way can assure that you will have unique memories to last a lifetime. Don't be afraid to get your feet wet – jump in!
Top 10 places to Get Your Feet Wet in South America
Surf in Viña del Mar, ChileWhen exploring the eclectic Chilean city of Valparaiso, don't forget to check out neighboring city Viña del Mar. Known for it's sprawling beaches and vibrant oceanside culture, it's a great place to surf in Chile; rent a board, enjoy the salt water and kick back. | Central Chile Trip Ideas here…
STAND-UP PADDLE BOARD IN LAKE PIURAY, PERUSurrounded by snowy peaks and scenic agricultural terraces, Lake Piuray will not disappoint. After your SUP adventure be sure to participate in a traditional pachamanca feast on shore. | Southern Andes Region of Peru Trip Ideas…
Kayak in Lake Titicaca, Peru Take a trip to the world's highest navigable lake. We recommend spending a few days in the area, giving yourself ample time explore the area by kayak, visit  Isla Taquile, check out the floating Uros Islands, and meet the locals. | Kayaking Lake Titicaca Trip Idea…
FLY FISH THE RIO PALENA, CHILE Fish for rainbow and brown trout in some of the most pristine waters of Patagonia. With options to float, wade and/or access high mountain lakes you really can't go wrong. | Patagonia Fly Fishing Trip Idea…
Float down the Futaleufú, Chile Whitewater raft the world-class turquoise waters of the Futaleufú and its tributaries. | Futaleufú Whitewater Rafting Trip Idea…
SCUBA DIVE around the Galapagos Islands, Ecuador Experience all the unique wildlife that the Galapagos Islands have to offer. Snorkel, scuba dive, and/or raft and get an up close and personal look at some of the world's most fascinating plant and animal life. | Galapagos Islands Trip Ideas… 
Cruise through the historic Beagle Channel, Antarctica You'll be delighted by penguins, seals and whales as they accompany you on your journey along the Antarctic coastline. | Antarctica Trip Ideas…
Whitewater Raft in the Urubamba River, Peru Run exciting class III & IV rapids on the upper section of the Urubamba River. | Urubamba River Trip Idea…
Paddle in Patagonia, Chile Kayak in the iceberg-full glacial waters of Lago Grey and approach the massive Grey Glacier. | Kayaking in Patagonia Trip Idea…
Cross the Andes by Boat, Argentina & Chile Cross the boarder between Argentina and Chile by boat and explore the remote and absolutely stunning lakes of Patagonia. | Argentina & Chile Trip Idea… 
Nos Vemos, Lisa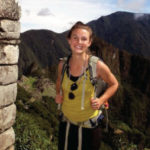 Lisa is the Media Manager at Knowmad Adventures, a company dedicated to creating unique, private and custom trips in South America. She studied abroad in Buenos Aires, Argentina in 2012 and is continually planning her next adventure. Read Lisa's biography and more about the Knowmad team.