Celebrate spring with this refreshing pisco sour recipe. I share the simple cocktail recipe, a bit of history, and how you can incorporate learning how to make an authentic pisco sour in Chile or Peru on your next South American adventure.
The Pisco Sour has foggy origins, both Peru and Chile claim to be the birthplace of pisco and have a friendly rivalry even today. One thing that we know for certain is that when the Spanish conquistadors came over from Spain, they brought with them grapes to make wine. It is thought that in the 16th century both Peruvians and Chileans began producing aguardiente distilled from fermented grapes, eventually known as pisco. 
There is a slight difference in the recipes as well. In the Peruvian pisco sour recipe you mix pisco, key lime, simple syrup, ice, egg white and Angostura bitters. The Chilean recipe is a bit different, using pica lima and excluding the egg white and Angostura bitters. The pisco sour is traditionally served in an old fashioned glass.
The recipe I chose below is one I learned in a cooking class in Santiago last year. We perused the local markets before heading back to Connie's kitchen (our local culinary guide) where we learned how to make a pisco sour among many other recipes. Connie's version served up the traditional drink with homemade lavender infused simple syrup in a champagne glass. I chose to use regular simple syrup in the recipe below, but I also included a tip on how to make your own simple syrup if you choose to do so.
Pisco can be found at your local liquor store, there should even be a few brands to choose from. I used Machu Pisco (pictured below).
PISCO SOUR RECIPE
3 parts Pisco
1 part lime
1 part simple syrup
1 egg white
Crushed ice
Angostura bitters
DIRECTIONS Pour the pisco, key lime juice, simple syrup and egg white into a cocktail shaker with ice and shake. Serve in a champagne flute or an old fashioned glass with a touch of Angostura bitters on top.
SIMPLE SYRUP TIP To make simple syrup, mix 1 cup of sugar and 1 cup of water in a pot. Bring to a slow boil and add lavender, cinnamon, ginger or lemon zest for flavor. Cook until you get the consistency of syrup. Remove from heat and let cool before using in your drink preparation.
Click the following link to learn more about my most recent trip to Chile, where Cole and I took a cooking class in Santiago, enjoyed pisco sours in the Atacama Desert (pictured above), and explored Patagonia. 
CULINARY TRAVEL IN SOUTH AMERICA
Learning new recipes and cooking together is a wonderful way to get to know other cultures, regions, and experiences. Below is a snapshot of a day you could incorporate on your trip to Peru or Chile.
Cusco Markets + Cooking Class
In the morning you will be picked up at your accommodations and taken to the historic San Pedro Mercado. This authentic food market is the place of choice for local Cuzqueño people to do their grocery shopping, and filled with a cacophony of sounds, vibrant colors, and pungent aromas. Explore the market alongside your chef guide, learning about Peru's diverse cuisine and ingredients while getting a real dose of Peruvian culture and meeting some of the chef's favorite local providers. From here you'll be taken to the chef's beautiful open-air cooking laboratory in the countryside just above Cusco where you'll tour the garden sipping a delicious pisco sour before the cooking instruction begins. After your interactive cooking lesson and a delicious lunch, you'll be taken back to your accommodations to enjoy the afternoon at your leisure.
Santiago Culinary Experience: Markets + Cooking Class
Today you will embark on an authentic Chilean cuisine adventure (please note that this excursion is in small group basis). In the morning you will be met at your accommodations (Spanish-speaking driver only) and be transferred to the markets to meet up with your bilingual chef-instructor. You will visit two of Santiago's biggest markets where your senses will be enveloped by the colors and aromas of the stalls: Mercado Central (Santiago's famous seafood market) and La Vega Central. While exploring the fresh produce from the Chilean farms and nearby sea, your chef-instructor may even buy some of the ingredients for your next activity. From the markets you will be taken with your small group to a lovely kitchen where you will join your chef-instructor in preparing a delicious lunch including many ingredients from the local markets. Enjoy learning some of the secrets of Chilean cuisine as you prepare these traditional dishes for lunch, and then enjoy the feast complemented by excellent Chilean wines. After the excursion you will be returned to your accommodations to enjoy the afternoon at your leisure. *This is the class I took last March, it was delightful! 
Valparaiso Cooking Class
After breakfast, your guide will pick you up at your accommodations to take you grocery shopping at the local markets to collect the ingredients for the dishes you will be making today. In addition to preparing delicious pisco sours, empanadas, and pebre (a typical Chilean salsa), you will also get to select an appetizer, a main course, and a dessert to make during your lesson. After your complete traditional meal paired with specially selected local wine, the chef will provide you with the recipes so that you can recreate the meal when you return home. Full from your afternoon of cooking and sampling, you will then be taken back to your accommodations to enjoy the evening at your leisure.
If you're interested in planning a trip to South America that incorporates culinary education, give us a call at 612-315-2894 or email a Knowmad Trip Specialist at [email protected]. 
Nos Vemos, Lisa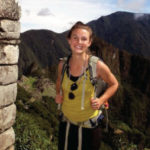 Lisa is the Media Manager at Knowmad Adventures, a company dedicated to creating unique, private and custom trips in South America. She studied abroad in Buenos Aires, Argentina in 2012 and is continually planning her next adventure. Read Lisa's biography and more about the Knowmad team.