Capturing a city in all its essence is a difficult task – the vivacity of porteños laughing loud above the noise of city buses and bustling foot traffic, brightly colored buildings and intricate architecture, fruit stands on every corner and vibrant street markets. However, your kitchen is a good place to start. Let your taste buds wander and cook up the flavor of Buenos Aires at home with our traditional beef Argentine empanada recipe below.
Having lived with a host family in Buenos Aires, Argentina for a little over five months, this recipe brought back a lot of memories. This particular empanada recipe is very typical of both Argentina and Chile. My host family made a batch of empanadas with these ingredients just about every week and you can find this variation in every bakery in the city. In Buenos Aires empanadas are enjoyed as a quick snack (at any time of the day) or for lunch. Bakeries in Buenos Aires often times get creative, offering multiple empanada varieties, but unlike other regions of the continent, in Buenos Aires the empanadas are almost always savory.
Argentine Empanada Recipe
Dough First mix the flour and salt in a large bowl. Add in the room temperature butter slowly and mix into the flour with your hands. Next beat in the vinegar, water and eggs. Cover the dough and allow it sit in a cool place for an hour (or more).  When you begin to roll out the dough add in more flour as needed.
2 cups all-purpose flour
1 – 2 teaspoon salt
3/4 cup butter
2 eggs
2/3 cup cold water
2 tablespoons white vinegar
Beef Filling Cook the minced onions and garlic in a large saucepan until translucent. Add the ground beef, chunk off into smaller pieces and drain the remaining fat. Next, season with cumin, chili pepper flakes, salt, pepper and a bit of sugar.
Once the beef is cooked, turn off the heat and add in the diced olives, chopped hard-boiled eggs, and raisins. Mix the ingredients together.
1 lb ground beef
4 hard-boiled eggs, chopped
1 cup stuffed green olive, diced
1 handful of raisins
1 large onion, diced
3 garlic cloves, minced
2 – 3 tablespoons ground cumin powder
1 teaspoon chili pepper flakes
Salt, pepper, and sugar to taste
When the dough is ready roll out until it is about 1/8 of an inch thick and cut into circles about 4-6 inches in diameter (lightly flour them). Fill each circle with about a tablespoon of beef filling and pinch the ends of the circle together creating a half moon. Place the empanadas on a greased cookie sheet. Bake for 15 – 20 minutes or until golden brown.
This recipe was a lot of fun for me to make, did you enjoy it this empanada recipe? Have you had empanadas before? Which variety is your favorite?
Nos Vemos, Lisa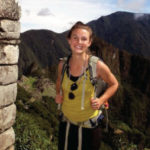 Lisa is the Media Manager at Knowmad Adventures, a company dedicated to creating unique, private and custom trips in South America. She studied abroad in Buenos Aires, Argentina in 2012 and is continually planning her next adventure. Read Lisa's biography and more about the Knowmad team.