Final Payment Submission Received
Thank you for submitting your final payment.
Give us a call 612-315-2894
Toll Free U.S. & Canada 1-877-616-8747
U.S. office located in Minneapolis, MN
Hours Mon - Fri 9am to 5pm, CST
REVIEWS

The Knowmad team put together the trip of a life time for us. Everything was perfect, from the guides to the accommodations to the activities, and your extensive knowledge of the area and personal relationships with the people we met in Chile were invaluable. We can't recommend Knowmad highly enough.

- Ben and Sarah, New York, NY | Custom Chile Trip

REVIEWS

After traveling to Chile two years ago with Knowmad Adventures there was no question as to who was going to help plan my trip to Peru! Thank you so much to Knowmad Adventures. The places they recommended, connections, and knowledge of these regions were impeccable. I highly recommend using Knowmad Adventures to plan your next trip to Peru or Chile!

- Deanna, Santa Barbara, CA | Inca Trail & Beyond

REVIEWS

Our trip was everything we dreamed it would be and more. Your group did a great job everywhere we went.  We especially loved our guide Paula, and Explora was top notch too. All perfect.

- Rosella, Denver, CO | Custom Chile Trip

REVIEWS

Please don't ever change the way you operate. You fulfill lifelong dreams and provide people with the chance to live what they thought could only be read about.

- Kevin, Minnetonka, MN | Amazon to Andes Odyssey

REVIEWS

You put together a one-of-a-kind vacation for my group that I'll long remember and enthusiastically recommend. I thank you and look forward, with much anticipation, to my next adventure with you.

- Lisa, Seattle, WA | Custom Ecuador Trip

REVIEWS

We got back last night and I must say that the organization of the entire trip was AMAZING. We all loved Peru and thanks to Knowmad we even enjoyed it a lot more. Thanks a lot Jordan for everything as we had sooooo much fun. I'll definitely recommend you to anybody that wants to experience Peru.

- Barbara, Barcelona, Spain | Peru Active Explorer
Savor incredible food and wine as you take in the beautiful surroundings of Mendoza, and disconnect for a few days of relaxation as you enjoy a stay in charming Uruguay on this amazing exploration of food and wine.

Great For: Couples, Honeymooners, Luxury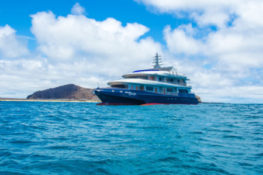 We're thrilled to announce that Knowmad has an exclusive, limited-time deal on one of our favorite Galapagos luxury catamarans, Camila.
Read more